Prawidłowa obsługa maszyny – użytkowanie, konserwacja i serwisowanie – mają równe ważne znaczenie na żywotność i wydajność maszyny/urządzenia jak jakość produkcji. Wszystkie zaniedbania, nawet te najbardziej błahe, mogą prowadzić do uszkodzenia podzespołu roboczego, silnika a nawet całego urządzenia. Finalne skutki zawsze wiążą się z dodatkowymi, nierzadko wysokimi kosztami, których można było uniknąć.


Materiały eksploatacyjne - Rola ich jakości i stanu technicznego
na funkcjonowanie maszyny


Filtry powietrza, paliwa i oleju, świece, ostrza tnące, głowice żyłkowe, linki i cięgła sterujące/sterowe, elementy gumowe i  gumowo-metalowe, uszczelki, bezpieczniki urządzeń energetycznych, itp. – to przykłady najważniejszych materiałów eksploatacyjnych. Wszystkie mają bardzo istotny wpływ na żywotność i trwałość danej maszyny. Ich cechą wspólną jest naturalne zużywanie się podczas pracy, a im większa intensywność eksploatacji urządzenia, tym szybciej owe części ulegają zużyciu. Dlatego właśnie  warto przestrzegać podstawowych zasad prawidłowej eksploatacji urządzeń oraz wskazówek dotyczących przeglądów technicznych zawartych w Instrukcji Obsługi każdego urządzenia. W przypadku konieczności, jakim jest uszkodzenie lub zużycie się danego elementu eksploatacyjnego, należy bezwarunkowo wymienić ten element na nowy.


Filtr powietrza

Rola w funkcjonowaniu maszyny spalinowej


Filtr powietrza zapewnia dopływ czystego powietrza, którego potrzebuje silnik spalinowy do swojego prawidłowego działania i funkcjonowania maszyny według założeń producenta. Brudny lub uszkodzony po prostu nie spełnia swojej roli:
zatkany filtr powietrza ogranicza dopływ powietrza do silnika,
uszkodzony filtr papierowy przepuszcza pył i osad, które mogą spowodować zanieczyszczenie gaźnika, nadmierne i zbyt szybkie zużycie cylindrów, tłoków i pierścieni silnika.

Skutkiem braku dopływu odpowiedniej ilości czystego powietrza do silnika jest:
obniżenie mocy silnika,
pogorszenie wydajności maszyny,
większe zużycie paliwa, co jednocześnie wiąże się ze wzrostem kosztów eksploatacji,
zwiększona ponad normę emisja spalin,
głośniejsza praca silnika,
dodatkowe koszty napraw lub wymiany silnika.

Każdy typ i model silnika pracuje na dedykowanym filtrze powietrza, który jest bardzo dokładnie dostosowany do konstrukcji silnika tak, by ten funkcjonował z pełną wydajnością i według zapewnionych przez producenta parametrów. Najczęstszą końcową konsekwencją stosowania innego filtra powietrza jest konieczność serwisowania silnika.

Rodzaje


Filtry powietrza są precyzyjnie dostosowane do konstrukcji konkretnego typu silnika oraz przeznaczenia maszyny. Uogólniając, istnieje kilka ich rodzajów:
papierowy
gąbkowy (zatrzymujące większe zanieczyszczenia)
papierowo-gąbkowy
w maszynach przeznaczonych do pracy w bardzo trudnych warunkach (np. silny i bardzo duży stopień zapylenia) stosowane są filtry o zaawansowanej konstrukcji. Przykładowo – w wybranych modelach ubijaków wibracyjnych, zagęszczarek i przecinarek Mikasa stosowany jest dwustopniowy system filtracji – filtr cyklonowy i właściwy. Filtr cyklonowy powoduje czterokrotnie skuteczniejszą  wydajność systemu filtracji w porównaniu z filtrem pojedynczym. Natomiast automatyczne wyrzucanie cząsteczek kurzu i pyłu na zewnątrz zdecydowanie  ogranicza zatykanie się filtrów głównych i jednocześnie istotnie ogranicza konieczność serwisowania maszyny.



Papierowy filtr powietrza Honda,    Papierowo-gąbkowy filtr powietrza Honda,                   Cyklonowy filtr powietrza, Mikasa


Konieczność wymiany


Podczas sprawdzania stanu i przydatności do użycia filtra powietrza należy zawsze brać pod uwagę dwa kryteria: czas eksploatacji oraz stopień zużycia. Podstawową wskazówką jest standardowy dla danego modelu urządzenia harmonogram przeglądów technicznych oraz wymiany materiałów eksploatacyjnych, w tym filtra powietrza. W praktyce należy jeszcze dodatkowo uwzględnić warunki pracy maszyny oraz intensywność jej użytkowania.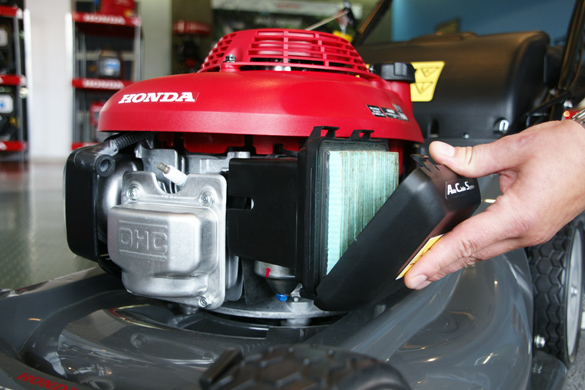 Systematyczna kontrola stanu technicznego filtrów powietrza umożliwia:
szybkie usunięcie zabrudzeń w przypadku niewielkiego zanieczyszczenia. Czynność tę należy wykonywać delikatnie i umiejętnie, by nie wcierać brudu i  by nie dopuścić do przedostania się zanieczyszczeń do kolektora ssącego,
natychmiastową wymianę silnie zabrudzonego, zdeformowanego i uszkodzonego filtra. Koszt nowego filtra i jego wymiany jest błahy w stosunku do kosztów napraw czy  wymiany silnika.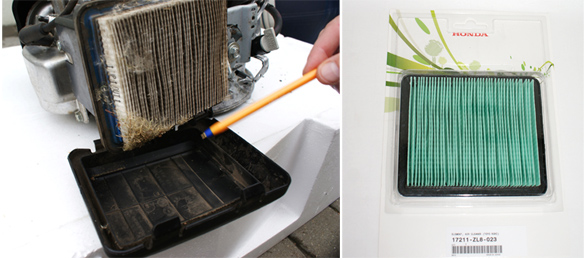 Silnie zabrudzony i zdeformowany papierowy




filtr powietrza niewiadomego pochodzenia -




do koniecznej wymiany

       

Nowy papierowy filtr powietrza Honda

Filtr paliwa oraz gaźnik


Rola w funkcjonowaniu maszyny spalinowej
Silnik spalinowy do prawidłowego działania, zgodnego z założonymi przez producenta parametrami potrzebuje paliwa dobrej jakości i właściwie oczyszczonego. Zanieczyszczone paliwo powoduje:
nieprawidłowe funkcjonowanie silnika,
szybkie i nadmierne zużycie silnika,
zwiększone zużycie paliwa,
zwiększenie poziomu emisji spalin,
problemy z rozruchem silnika – jeśli silnik nie odpala, warto najpierw sprawdzić stan techniczny filtra paliwa,
dodatkowe koszty – naprawy silnika, a nawet jego wymiany.

Rolą filtra paliwa jest właściwie oczyszczanie paliwa dostarczanego do sinika, by chronić silnik przed mechanicznymi uszkodzeniami i zapewnić jego prawidłowe działanie według fabrycznych ustawień. Zanieczyszczenie, zatkanie filtra paliwa jest praktycznie nieuchronne, zwłaszcza w Polsce, gdzie jakość dostępnego na rynku paliwa pozostawia wiele do życzenia, dlatego sprawdzanie stanu filtra i jego systematyczna wymiana jest kluczowym elementem konserwacji silnika.

Dodatkowym aspektem prawidłowej eksploatacji silnika jest usuwanie z niego i gaźnika paliwa w maszynach, które nie będą użytkowane przez dłuższy czas. W takich okolicznościach, w których występują wahania temperatury i parowanie, paliwo traci swoje właściwości i obniża się jego jakość. Jednocześnie w zbiorniku powstaje osad, który dostając się do gaźnika, zatyka jego dysze. W konsekwencji prowadzi to do problemów z uruchomieniem silnika i wówczas konieczne jest serwisowanie silnika, najlepiej w autoryzowanym salonie.

Najprostszym sposobem uniknięcia powyższych problemów jest wypalenie paliwa z gaźnika przed dłuższym postojem, a na zimę - usunięcie paliwa ze zbiornika. W przypadku pozostawienia paliwa w zbiorniku na dłużej niż miesiąc, nie należy uruchamiać maszyny na tym zapasie – najbezpieczniej jest usunąć paliwo z silnika i zastąpić je świeżym.


Konieczność wymiany


Wymiana filtra paliwa powinna być systematyczna i najlepiej jest stosować się do wskazówek zawartych w Instrukcji Obsługi danego urządzenia i maszyny. Im maszyna jest eksploatowana intensywniej, tym częstsza jest konieczność monitorowania stanu filtra paliwa i gaźnika oraz wymiana filtra.

Koszty związane z zakupem nowego filtra paliwa oraz wymianą są niewspółmiernie niskie w porównaniu z konsekwencjami finansowymi naprawy lub wymiany silnika.


Filtr oleju

Rola w funkcjonowaniu maszyny spalinowej


Filtr oleju, stosowany w większości silników spalinowych, oczyszcza olej dostarczany do silnika z cząstek metalu i substancji zawierających sadze, żywice będące efektem procesu utleniania oraz  pył, ziarnka piasku, włókna. Jego rola polega na zapewnieniu prawidłowego działania silnika jak i całej maszyny - w chwili uruchomienia silnika, umożliwia doprowadzenie oleju do odpowiednich obszarów silnika, a wraz z wyłączeniem silnika blokuje przepływ oleju z kanałów olejowych.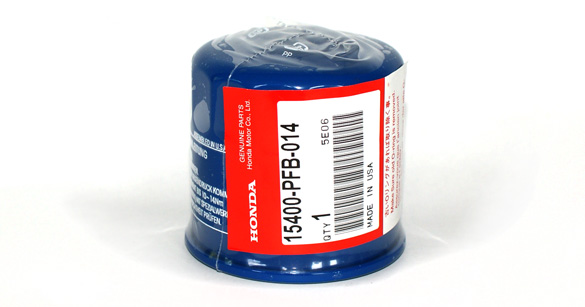 Filtr oleju, jak każdy materiał eksploatacyjny, zużywa się w trakcie pracy urządzenia, co w konsekwencji prowadzi do utraty jego właściwości smarnych. Zabrudzony i zatkany filtr oleju powoduje:
otwarcie zaworu obejściowego
przedostanie się nieoczyszczonego oleju do silnika
blokadę części ruchomych silnika wskutek ciepła wytwarzanego przez tarcie
uszkodzenie silnika

Filtr oleju stosowany jest w dwu- i więcej cylindrowych silnikach spalinowych Honda. Do każdego modelu silnika stosuje się dedykowany filtr o ściśle określonych parametrach. Dzięki autorskiej koncepcji inżynierów Honda, polegającej na zastosowaniu karbowanych fałd, oryginalne filtry tej marki wyróżniają się powiększoną powierzchnią filtrującą. Rozwiązanie to znacznie udoskonala efekty oczyszczenia oleju a także znacznie wydłuża żywotność samego filtru.

Konieczność wymiany   


Prawidłowe funkcjonowanie oraz żywotność silnika spalinowego zależą m. in. od czystości i jakości oleju, dlatego wymiana oleju oraz systematyczna kontrola stanu filtra oleju są niezbędne. Silnik, najdroższy element maszyny, może być zniszczony przez parę drobinek piasku.

Wymiana filtra oleju na nowy, najlepiej oryginalny i przeznaczony do danego typu silnika, jest konieczna:
w przypadku silnego zabrudzenia lub wręcz zatkania filtra
w terminach wskazanych w Instrukcji Obsługi silnika

Jednocześnie trzeba wziąć pod uwagę przeznaczenie maszyny, w warunki w jakich pracuje oraz intensywność eksploatacji, bowiem wszystkie te elementy mają wpływ na stan techniczny filtra. Skutkiem kontynuacji pracy silnika na nieodpowiednim filtrze oleju może być zniszczenie silnika, który trzeba następnie zdemontować, naprawić, zamontować. Nieplanowane z tym procesem koszty są niewspółmiernie wysokie z kosztem zakupu nowego oleju i filtra.


Części oryginalne, tańsze zamienniki i podróbki a trwałość maszyny


Twoje urządzenie ma taką trwałość jak najsłabszy jego element


Wymiana materiałów eksploatacyjnych i części zamiennych jest naturalnym elementem procesu użytkowania urządzenia. Stojąc przed dylematem zakupu i ważąc koszty materiałów i części oryginalnych czy zamienników, warto spojrzeć na urządzenie jak na własny samochód i uwzględnić wszelkie konsekwencje decyzji. Część zamienna czy materiał eksploatacyjny za przysłowiowych kilka złotych może zniszczyć maszynę wartą od kilkuset do kilku tysięcy złotych.


Jak rozpoznać oryginalne części zamienne ?


Każda oryginalna część zamienna i materiał eksploatacyjny jest sprzedawany w opakowaniu z charakterystyczną etykietą zawierająca podstawowe informacje o produkcie:
Napis "Genuine parts" lub "Genuine accessories" (oryginalna część lub materiał eksploatacyjny)
Kraj produkcji, np. "Made in Japan"
Nazwę części, np. "Air filter"
Numer katalogowy części, np. 17211-ZL8-023
Unikalny kod kreskowy



Najpewniejszym miejscem nabycia i wymiany oryginalnych materiałów eksploatacyjnych i części zamiennych jest autoryzowany punkt serwisowy. W naszej sieci dilersko-serwisowej, obejmującej starannie dobranych i wykwalifikowanych partnerów, znajdziesz każdy potrzebny materiał eksploatacyjny i część zamienną.  

Wszystkie bieżące dostawy oraz zamówienia są realizowane w Centrum Logistycznym Honda w Pniewach koło Poznania i za pomocą nowoczesnych systemów informatyczno-logistycznych. Wystarczy skontaktować się lub odwiedzić najbliższy punkt serwisowy lub dilersko-serwisowy.

Jeśli zdarzy się, że autoryzowany serwis nie posiada danej części akurat w chwili przyjęcia zamówienia, sprowadzi ją w ciągu 2-3 dni. Zapraszamy!



Dlaczego warto stosować oryginalne części?


Wymiana materiałów eksploracyjnych i części zamiennych na oryginalne jest gwarancją prawidłowego funkcjonowania maszyny czy urządzenia według założeń producenta

Wszystkie materiały eksploatacyjne i części zamienne Honda są produkowane według konkretnych wytycznych i procedur, pod kątem danego typu silnika/całego urządzenia i są identyczne z elementami, w które każdy silnik i maszyna są fabrycznie wyposażone.

Każde urządzenie i maszyna Honda jest przemyślaną koncepcją zespołu inżynierów – konstrukcją techniczną, której najdrobniejsze elementy są produkowane według bardzo rygorystycznych norm jakości, sprawdzone i przetestowane przez Honda i współtworzą całość o najwyższej jakości. Materiały eksploatacyjne i części zamienne są produkowane według identycznych procedur, co zapewnia maszynie zachowanie długiej żywotności i trwałości oraz pracę wedle gwarantowanych przez producenta parametrów. Na przykład filtry powietrza i paliwa Honda mają opatentowaną konstrukcję, która jest precyzyjnie dostosowana do danego typu silnika, by zapewnić maksymalnie wydłużony okres prawidłowego funkcjonowania silnika. Żaden tańszy zamiennik ani podróbka nie dają takiej gwarancji.



Dlaczego lepiej unikać tanich zamienników i podróbek?


Tańsze zamienniki materiałów eksploatacyjnych i części podrobione nie uwzględniają unikalnej specyfiki oryginałów i w konsekwencji prowadzą do uszkodzenia maszyny lub urządzenia.

Zastosowanie nieoryginalnej części niweczy przyjęte przez producenta założenia, a urządzenie traci na wartości, ponieważ jedna, nawet najmniejsza nieoryginalna, część zamienna wpływa na funkcjonowanie całości.  Po takiej operacji urządzenie nie funkcjonuje w 100% według parametrów producenta.

Tańsze zamienniki produkowane  według jednego standardu, natomiast części podrobione powstają wedle bliżej nieznanych parametrów oraz z materiałów o niewiadomej jakości - nie mogą więc uwzględniać specyfiki konstrukcji poszczególnych maszyn i urządzeń.

Do najczęściej podrabianych części należą tłoki, pierścienie, uszczelki i pod głowice silników, czyli elementy kluczowe wręcz w kontekście żywotności silnika i całej maszyny. Nie trzymają parametrów jakościowych ani wymiarowych. Podrabiane pierścienie często pękają już w trakcie montażu lub po krótkim użytkowaniu wskutek nadmiernego zużycia i trzeba kupić kolejne pierścienie, bez których silnik po prostu nie działa. Natomiast Honda stale  monitoruje i nieustannie doskonali rozwiązania techniczne oraz jakość materiałów, wprowadza innowacje. Każdy typ silnika ma właściwą sobie specyfikę konstrukcji i produkcji, a oryginalne części zamienne dobierane są według numeru seryjnego.


Konsekwencje stosowania zamienników i podróbek


Uszkodzenie silnika
Uszkodzenie całego urządzenia
Obniżenie wydajności i stopnia trwałości maszyny/urządzenia
Skrócenie żywotności maszyny/urządzenia
Generowanie dodatkowych kosztów zakupu kolejnych części lub/i napraw urządzenia

Czy warto zatem ryzykować utratę praw i korzyści zapewnionych w umowie gwarancyjnej? Czy warto narażać się na dodatkowe i niepotrzebne koszty, tracić czas na nieplanowane serwisowanie i naprawy i wreszcie, czy warto ryzykować nawet trwałe zepsucie maszyny, której cena wielokrotnie przewyższa koszty związane z zakupem oryginalnych części i ich wymianą?